Master Backpack

Every player will start with a Yellow Master Storage bag in their backpack.  This works in conjunction with the [loot command. By default, using the loot command will clear any corpses around you and dump all the loot into this bag. The Master Storage bag itself will only store Tokens for you.  Gold can be stored on the bag as well although that is a purchase only option.  Inside the bag, however, gold can be placed.

Left clicking on the Master Storage bag will bring up a mini-gump menu:


Credits
Opening the credits menu displays how many tokens you have available to you.  This is a convenience feature so that players do not constantly need to run to the bank. Line 1 is how many tokens you have earned thru doing various in-game activities.
You can add currency to your bag manually.  You also have options to withdraw tokens from your bag, in either a pile, or by check.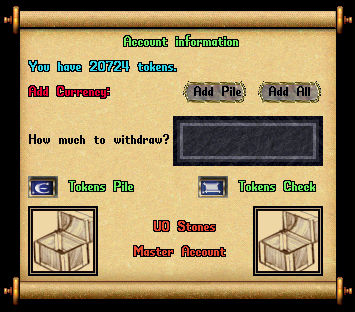 Options
Options is how you control what is saved when you use the [loot command.  If you have hunted and used it without setting your bag up, you will realize how important it is.  There is a lot of random junk on monsters, much of it is not worth keeping!
Add Single Item:
  This option is handy for looting a particular item that you wish to keep!
Add Items Common Type:
You can use this option for getting it to pickup common items like Spellweaving scrolls. It requires two items to establish this preference.
Looting:
Pushing this button gives you three options:
From list: This option loots only things on your preference
list, plus gold.
Currency only:
  Gold only.
Everything:
  All the junk!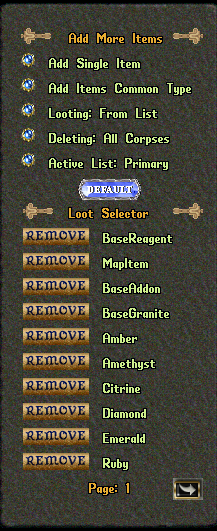 Deleting:
Pushing this button gives you two options:
            All corpses

            Empty corpses

Active List:
  Two options here as well:  Primary or Secondary. Self-Explanatory.
Default:
 This is a list of ALL the items currently being looted by the Master Storage bag when using the [loot command. Review this section carefully and remove the items that you do not wish to have clogging up your inventory. Remember, you can always add things back in if you delete something that you would really rather have being picked up.